If you're a self-employed person or a small-business owner, you'll need a reliable way to bill your clients and get paid. An invoice serves this function as well as others.
Creating an invoice, on the other hand, is a difficult task because it must be professional and provide all of the relevant information. Continue reading to find out how to create an invoice online.
An invoice is a document that lists the goods and services offered by the vendor to the customer, as well as the amount owed for them. It not only communicates the sum owed to the client, but also the payment terms, such as how the client can pay you.
WeInvoice:
WeInvoice is a free online invoice generator with hundreds of templates to choose from. The platform is built to make it simple to create professional invoices without having to know how to edit them.
Anyone can sign up for this platform and use its templates to quickly create any kind of invoice and invoice design read this about invoice design. Weinvoice is an excellent medium for digitally replacing bookkeeping and physical invoices.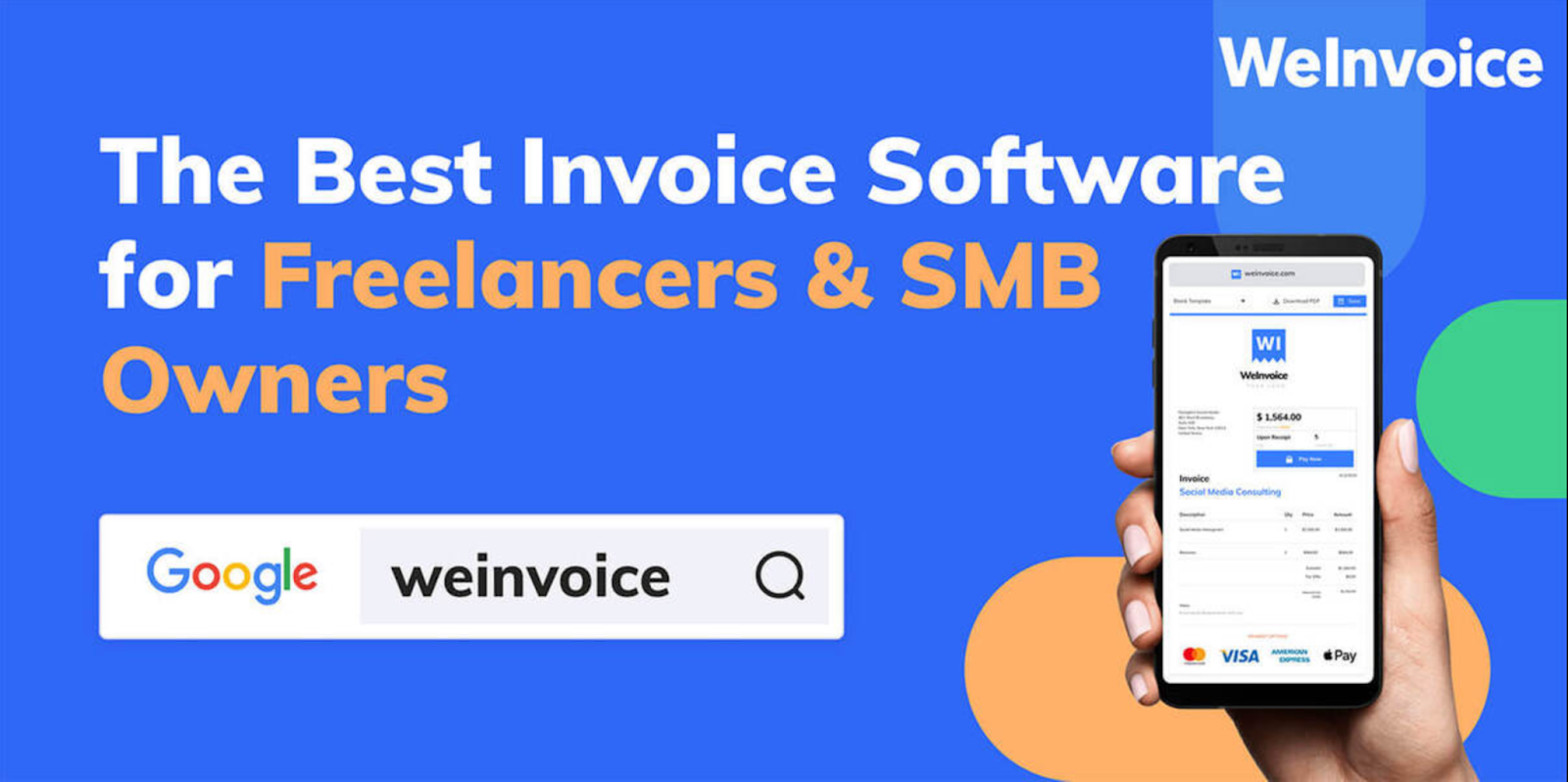 With this tool, you no longer have to be concerned about data management. It also includes online storage, allowing you to conveniently save your files for future use. Invoice templates are available in almost all common file formats on the web. We tried out some of its most common templates, and they come with real-time price and charge estimates for each product.
As a result, it is an ideal solution for those seeking similar services.
Here's How To Use The Invoice Generator To Generate An Invoice:
Step 1: First, create a WeInvoice account. In less than 15 seconds, you can enter your name, company name, email address, and password using this simple form. When you're done, click Create.
Step 2: Select Invoice Generator and begin the process. On this page, you will be asked for details, beginning with your company profile. A box with the text "Click here to change your logo" appears on the right, indicating the location of the logo.
Step 3: Fill in your client's details in the 'Bill To:' line. The client's company name, address, invoice date, and due date should all be included.
Step 4: Make a list of the items you're searching for in the Description section. This section will provide all of the necessary information, including item names, specifications, prices, and quantities.
You may add or remove items from the list in this editable section. When you hover the mouse pointer over an active row, the Add a Line option appears, allowing you to add an entity.
Step 5: Fill in the required discounts and tax rates. At the bottom, the balance will be shown as the Amount Due.
WeInvoice is one of the best free financial services available online. The platform collects all of the necessary information and generates a professional invoice for your freelance business using a personalized template.
Even though there are several free business tools available online, finding one that does not charge for basic features is challenging. As a result, WeInvoice has established itself as a must-have online invoice template service for individuals and businesses, particularly freelancers.
WeInvoice Useful Features
Use for free: WeInvoice is a free online invoice creation service that can take care of all of your billing needs. Much online invoicing software requires a subscription for simple access. This platform gives you access to a powerful financial tool that comes with all of the basic features for free.
Simple to use: After creating a free account, you can use the Invoice Generator. This well-organized wizard allows you to personalize an invoice. All of the required fields are laid out in a logical order, allowing you to fill in all of the required details, including a logo if needed. When you're done, save your work. You're ready to go.
Customizable template designs: The bulk of invoicing software doesn't provide anything in the way of flexibility. You can, however, customize color schemes, add your logo, and so on this website. The result is a professional-looking invoice that is also eye-catching.
WeInvoice offers a wide variety of features, including the ability to create an invoice for free and access to all of the basic features. A subscription, as anticipated, grants access to a slew of new features. On the web, you can also make cash purchases, devolutions, and credit notes.
Today, there are a variety of online services available. In terms of the number of features available, ease of use, and overall user experience index, WeInvoice is unrivaled. This online invoice design service is a must-have.
Try WeInvoice today, a powerful online invoice modeling service with a plethora of features.
Last Thoughts
You'll appreciate their models if you run a business that wants to do things differently. We may draw the conclusion that it is a fascinating platform for generating invoices. They have special templates for freelancers to make getting paid easier.
WeInvoice is the simplest application to use since it has a payment gateway. As a consequence, apart from WeInvoice, you won't need any other financial management tools. The best part is that it is absolutely free to use and does not charge for its services (in its trial package).