When you run campaigns on Google Ads or Microsoft Advertising, you face loads of manual tasks, including competitor analysis, keyword research, reporting, etc. Such tasks eat up your working hours which you could spend on more important strategic planning instead of routine.
However, it's not all bad. Here is a compilation of 5 PPC automation platforms that you can opt-in to save time creating, managing, and optimizing your PPC campaigns.
PromoNavi
PromoNavi is a digital marketing platform for automating routine PPC tasks throughout the entire advertising process—from keyword research and competitor analysis to monitoring and reporting. It is suitable for both marketers and small business owners who run PPC ads on their own.
PromoNavi's Analytics Dashboard — Account view
Supported advertising platforms: Google Ads, Facebook Ads, Microsoft Advertising.
The tasks you can handle with PromoNavi
Analyze your PPC competitors. This tool allows you to discover who are your rivals on the Paid Search, dive into their advertising strategies, download their ad copies, and collect competitors' keywords, including keywords you're missing. All the data is interactive and visualized.
Find keywords for your campaigns. When it comes to keyword research, PromoNavi's Keyword Planner is a more functional alternative to Google's Performance Planner. With its help, you can collect 3 types of keywords: phrase-match, related keywords, and auto-completions. Also, you can quickly build a campaign based on collected keywords and export it to your Google Ads account straight from PromoNavi.
Automate PPC reporting. You can schedule weekly or monthly PDF reports with all the key performance data. Also, you can leverage the 16-page PPC report template for Google Data Studio. All the reports have white-labeling option.
Keep track of PPC performance in real-time. On the Analytics Dashboard, you can see the key metrics across accounts, campaigns, and conversion goals. By segmenting data by age, gender, device, and network, you can dive deep into PPC analysis.
Receive alerts when something in your accounts goes out of the ordinary. With PromoNavi Alerts, you can prevent daily budget overspending, keep track of abnormal performance changes, and be notified when your balance is about to exhaust.
Optimize your campaigns. PromoNavi analyzes your PPC performance and provides recommendations on how to boost it. For example, the system uncovers effective and ineffective keywords, negative keywords, and conflicting negative keywords; it monitors broken links in your ads and suggests bid adjustments to reduce misused ad spend.
To start using PromoNavi, you should sign up and link your ad account. Once done, all the features will be fully available to you.
Pricing
PromoNavi has two pricing plans:
Business Plan – $49/month. You get unlimited access to all the tools, excluding Campaign Builder. There are no limits on the number of connected accounts or monthly ad spend.
Agency Plan – $79/month. This plan includes all the available PromoNavi tools and features with unlimited access.
If you subscribe to annual plans, you save 20%. For new users, a free 14-day trial with unlimited access to all the features is available.
Summary
If you're searching for a solution to automate the key tasks throughout the whole advertising process, PromoNavi will be the right choice. With PromoNavi, you don't need to overpay for various scattered tools—for an affordable price, you get access to almost all the tools to reduce your time spent and improve your PPC performance.
Adzooma
Adzooma automates two important aspects of PPC advertising: campaign optimization and reporting. However, it doesn't include tools to find keywords and analyze your competitors.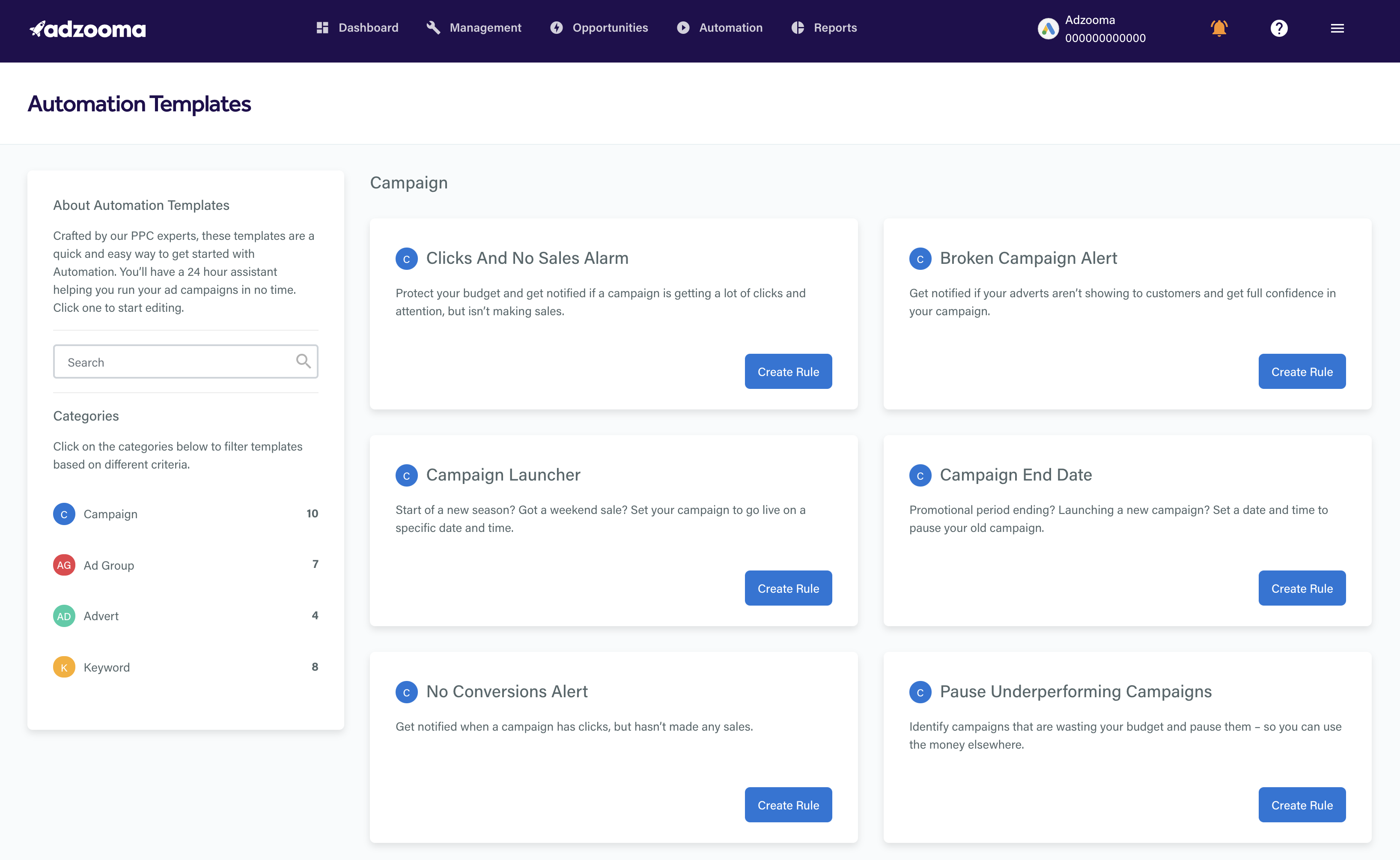 Adzooma's automation templates (Image source)
Supported advertising platforms: Google Ads, Facebook Ads, Microsoft Advertising.
The tasks you can handle with Adzooma
Optimize your campaigns. The platform analyzes linked accounts and recommends different improvements, such as bid adjustments, new effective and non-converting keywords, well-performing ad scheduling, etc.
Analyze PPC performance in real-time. Adzooma's dashboard allows you to keep track of essential data, such as Clicks, Conversions, CPC, etc.
Set up reporting. You can use predefined report templates or create your report from scratch. All the reports are downloadable as PDFs.
Perform bulk actions using automated rules. This feature is almost similar to Google's automated rules. However, you can use ready-made templates.
Create campaigns from Adzooma's interface. The campaign builder allows you to define basic settings of your Google or Microsoft ad campaign from the Adzooma's interface.
Pricing
You can start using Adzooma for free. However, the free plan provides you access to a narrow list of features. For example, on a free plan, you can't leverage automated rules, SEO reporting, the part of the optimization recommendations, and some other features. If you want to enable these options, you need to subscribe to an Adzooma Plus plan that costs $99/month.
For additional $115 or $279/month, depending on what upgrade plan you choose, you get access to the automated campaign builder.
Summary
Adzooma is a platform that focuses mostly on optimization, reporting, and bulk actions. However, if you need to automate other aspects, such as keyword research, competitor analysis, and alerting, you should opt-in for other solutions.
Wordstream
Wordstream provides users with various tools to automate and optimize their campaigns. One of the main solutions is Wordstream Advisor that analyzes account performance and suggests optimizations, such as bid adjustments, optimal budget, new keywords, etc. You can enable all the recommendations directly from Wordstream's interface.
Supported advertising platforms: Google Ads, Facebook Ads, Microsoft Advertising.
The tasks you can handle with Wordstream
Optimize your campaigns. You can refine your PPC tactics using automated recommendations. For example, the system uncovers new effective keywords, negative keywords, suggests bid adjustments, removes duplicate keywords across ad groups, etc.
Discover new keywords. Wordstream's Keyword Tool shows up to 500 keywords for each search, so you can pick the best ones for your campaigns.
Get ideas for ad creatives. Animated ads builder analyzes your website's content and provides ad variations based on the site's images and text.
Create a pop-up and landing page. Wordstream provides ready-made templates within its Conversion Toolkit upgrade package that costs $20/month.
Track calls. This is an optional feature as well that has pricing from $25/month.
Pricing
Basic Wordstream's tools, such as Keyword Tool, Facebook Opportunity Calculator, and Smart Ads Creator, are free for all users. To leverage Wordstream Advisor and other tools, you should subscribe to the paid plan.
The cheapest subscription plan costs $294/month. To opt-in for this plan, your ad spend can't exceed $2,500/month.
Other pricing options depend on your monthly ad spend:
$414/month for ad spend between $2,500 – $5,000/month
$514/month — $5,000 – $10,000/month
$769/month — $10,000 – $25,000/month
If your ad spend exceeds $25,000/month, you will need a custom plan.
Summary
Wordstream is a well-known platform with various tools for PPC marketers. Its Advisor provides you with valuable insights and allows you to save time optimizing your campaigns.
However, this set of tools is not comprehensive—for example, you can't find a competitor analysis tool or in-depth keyword collector here. Also, you should consider your ad spend when choosing a pricing plan and keep in mind that not all the features are available within the basic subscription, and you'll have to pay for them as well.
Opteo
Opteo is an ad management platform for Google Ads. Like Wordstream's Advisor, it suggests improvements based on connected accounts' performance data. You can apply all these improvements from the Opteo interface.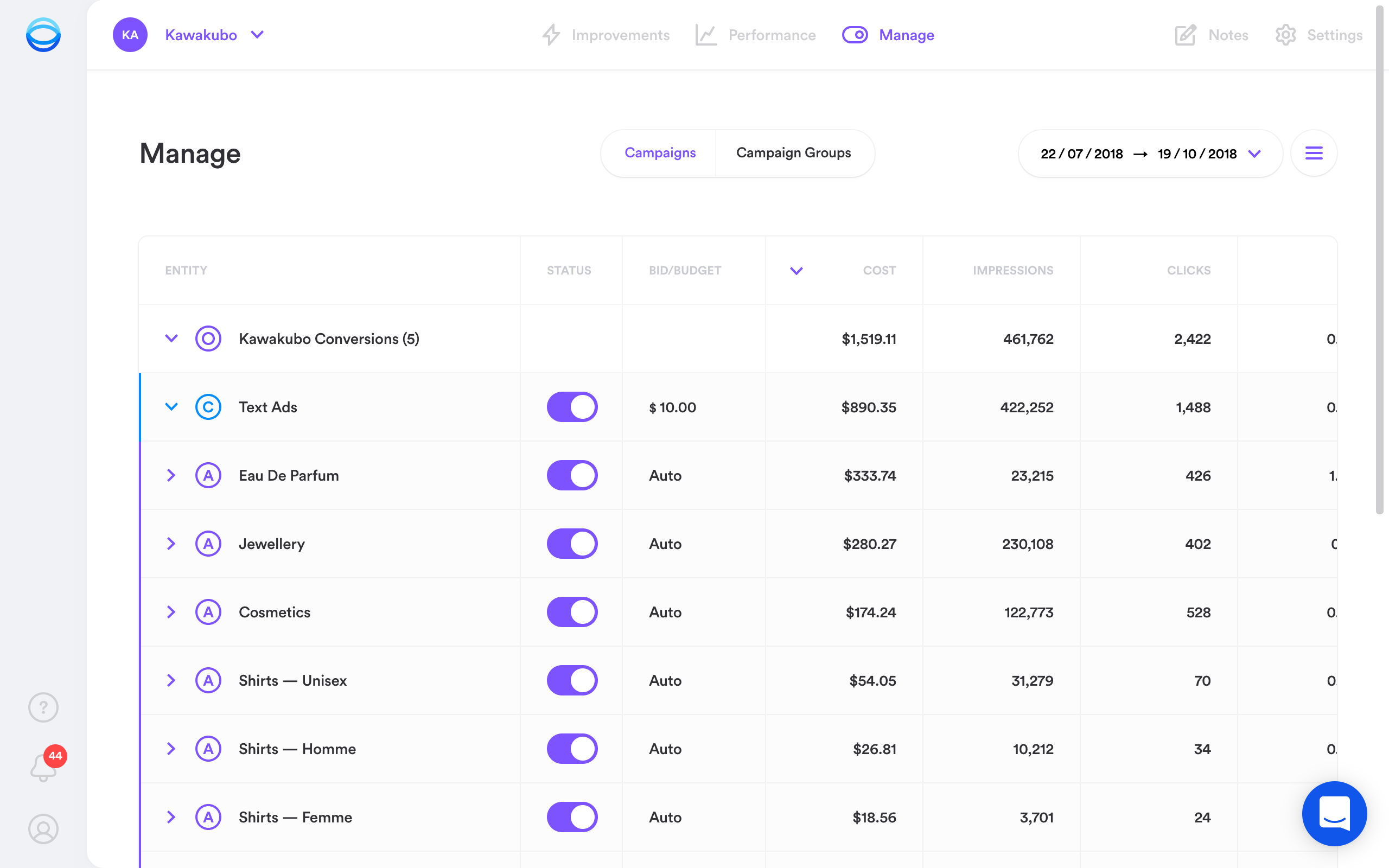 Opteo's ad management section (Image source)
Supported advertising platforms: Google Ads.
The tasks you can handle with Opteo
Optimize your campaigns. The platform suggests effective ad scheduling and bid adjustments, uncovers losing keywords and networks, etc.
Tracking PPC performance in real-time. Like other platforms, Opteo has its dashboard with key metrics, including Quality Score components.
Manage your Google Ads campaigns. From the single table within Opteo, you can manage all your campaigns and switch between campaigns, ad groups, keywords, and other components.
Pricing
Opteo pricing starts at $97/month. You can link up to 25 accounts with aggregate ad spend of no more than $50,000/month. The more accounts you want to connect or the higher ad spend is, the higher the price will be:
$197/month—50 accounts, $250,000/month
$397/month—100 accounts, $500,000/month
$797/month—50 accounts, $1M/month
Summary
Opteo is a viable choice for those who run only Google Ads. The platform doesn't support other ad platforms, so if you want to manage and analyze all your accounts within a single interface, it is better to opt-in for other solutions.
Acquisio
Acquisio is suitable both for marketing and sales teams. It provides ad automation and management features alongside tools for sales teams.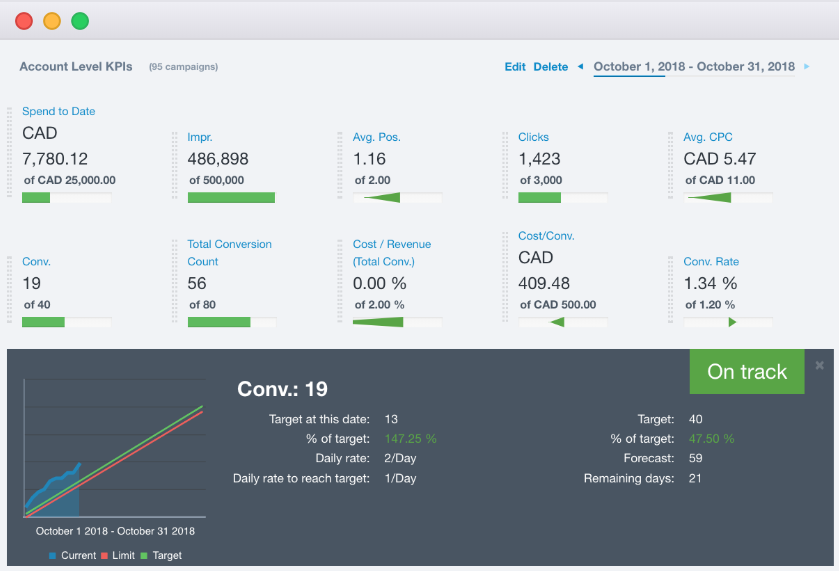 Account-level KPIs in Acquisio (Image source)
Supported advertising platforms: Google Ads, Facebook Ads, Microsoft Advertising.
The tasks you can handle with Acquisio
Launch your social and search campaigns. Ready-made templates allow you to quickly create a campaign, including Dynamic Ads.
Keep track of your PPC performance. Acquisio's Client Center displays key metrics and allows you to and get suggestions on how to allocate your budget and improve PPC performance.
Easily integrate. You can integrate third-party call tracking platforms, inventory software, and optimization solutions.
Create reports. You can schedule white-labeled reports based on ready-made templates.
Analyze sales. Using this platform, you can pre-qualify prospects, estimate the traffic and leads, and calculate the expected ROI of your ads.
Pricing
For Acquisio's basic plan, you should pay $199/month. Upgraded plans cost $899/month and $1899/month.
Summary
Acquisio is a functional solution that aggregates both marketing and sales data. You can integrate many third-party tools to analyze data within a single platform.
What PPC Automation Platform to Choose?
We covered 5 PPC platforms you could consider when choosing an automation solution. However, there are many more PPC automation platforms you can consider if you want to provide in-depth market analysis.
The question is, "What platform to choose among all that variety?"
Here are major considerations you should take into account when choosing the right platform for your tasks:
Which ad platforms are supported. If you run campaigns across multiple ad platforms, it would be better to opt-in for automation solutions that support all those platforms.
Price. Don't expect much from the free plans and tools. In most cases, it's more about marketing than functionality. Some platforms state that they are free. However, after signing up, you will find many paid options. Other platforms provide free tools, but they are extremely limited. Also, keep in mind the pricing plan limitations, which may be the number of linked accounts or monthly ad spend. Some pricing plans may have access to the limited toolkits; to opt-in for more features, you will need to upgrade to more expensive plans.
Tools. Some platforms include comprehensive toolkits for PPC advertisers, while others are more specialized. When you opt-in for platforms like PromoNavi, you can automate your PPC tasks throughout the whole advertising process, from competitor analysis and keyword research to alerting, analytics, and reporting. Adzooma and Acquisio don't have keyword research and competitor analysis tools. Opteo and Wordstream are highly focused on campaign optimization. We recommend you to thoroughly look through the features list before you choose a platform and subscription plan.
User experience. PPC automation platforms should be user-friendly and flexible. After all, you pay money and shouldn't be frustrated by bugs and pitfalls, as well as spend many hours learning how to work with specific solutions.
Keep in mind these considerations to choose the right PPC automation platform, reduce time spent, and focus on strategic tasks instead of routine.