The world has grown so rapidly, and it has caused changes in people's perspectives. Now, everyone is more interested in art and digital work. There is an increasing interest rate in art fields, including graphic designing, illustration, and specifically animation.
But, the question is, how can you make these skills accessible and easy to apply? You might be a freelancer who proposes animation work, a teacher who teaches animation and editing skills, or an admirer who loves to create animations. For this cause, you can choose to work with the best and efficient animation maker to make your tasks easy and perfect.
The article will be covering the following related topics to understand the proposed solution:
Doratoon – A Comprehensive Animated Video Maker at Your Ease
Main Features Offered in Doratoon
Flexible Pricing of Doratoon
What Should You Look For in an Animated Video Maker?
Doratoon – A Comprehensive Animated Video Maker at Your Ease
Doratoon is a great aid in this era that requires an illustrative and detailed explanation of design ideas. It can help you to convey your idea in the form of a cartoon video. Using its thousands of animated designs and templates, one can create their own videos to deliver them to prospective parties who are going to review the idea. Doratoon has a simple interface that does not let you down in making creative and eye-catching pieces.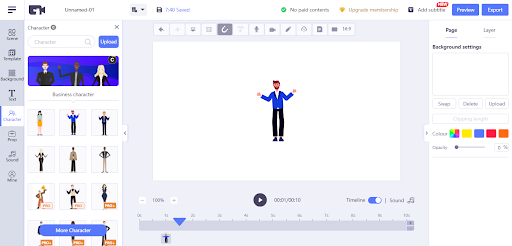 This online video animation tool goes ahead when it comes to its features. It has AI-based dubbing that allows you to make exceptional videos for business and educational purposes to attract viewers. Undoubtedly, Doratoon is a reputable cartoon video tool that brings several benefits.
By adding images, background music, templates, and sound effects, you can increase the chances of conveying your message better. The tool aims to provide a variety of features. It has the best videos for numerous courses like business, marketing, and event promotion.
Main Features Offered in Doratoon
Doratoon works mainly to provide us with beneficial features and opportunities to create the best-animated videos. Here, we will explain the pro features offered on Doratoon official website.
Doratoon makes it simple and easy to create motion graphics and advanced animations. You can choose the available animation effects to add to your video. You can add transition and other customized features and then preview the effect by clicking on "Play." Furthermore, Doratoon also enables you to add a path for a new object that it will be following in the video.
Artificial Intelligence of Doratoon evaluates what users will draw with its predictions. One can customize the tool preference by selecting different colors and setting the thickness of its pencil tool. Once you draw a rough shape with the pencil tool, AI will predict the possible shapes that you can add to the canvas.
Doratoon enables the user to decorate and adjust the footage according to your requirements and make it look more appealing and attractive. One can align the items on the canvas and adjust the transparency and capacity level of the clip via Opacity and Volume sliders. It also enables you to add the effects and even trim the video to clean the unwanted footage.
Footage Combination and Locking
With the assistance of Doratoon, one can manage the objects' appearances and lock them to avoid misalignment. It allows you to position the Play head and then add the second object from the position where you added Skimmer. One can also adjust the appearances of objects accordingly and lock an object.
Background Zoom, Video Clip, and Clip
Doratoon allows adding the background and pop-up the ambiance of any presentation. One can set the uploaded photo according to preferences, adjust the frequency level, zoom in or out the background, and add filters to the picture.
Flexible Pricing of Doratoon
If we consider using animated video makers for free, all of them have steep pricing strategies. Some of the tools only allow yearly subscriptions. However, everything is entirely different with the Doratoon animation maker.
Doratoon has both monthly and yearly subscription plans. The monthly and yearly basic package of Doratoon is for free. The user can avail of free templates along with free fonts and soundtracks. Moreover, the monthly and yearly pro subscription package includes pro-level access to templates, fonts, and royalty-free objects.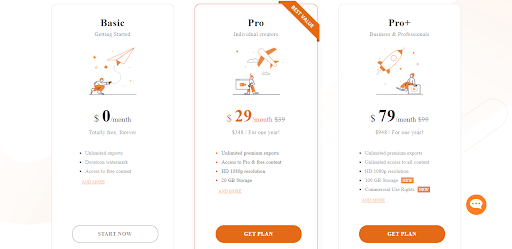 One can also avail pro-level transition animation, AI drawing, and AI dubbing 240 times. The monthly subscription package costs $29 per month, and if you want a yearly plan, the service will cost $228 per year.
Lastly, the monthly and yearly Pro+ package is the premium package of Doratoon. Users can avail unlimited access to AI dubbing, transition animation, and royalty-free objects. Moreover, it is also possible to download the video in MP4 with 480p resolution and full HD 1080p. The monthly package will cost $79 per month while $588 per year.
What Should You Look For in an Animated Video Maker?
If your animation video maker online is easy-to-use and efficient, doing animation will be a cup of tea for you. This part will reflect on the qualities that should be present in your video creator tool.
Impressive Online Asset Library
You should check if the animated video maker has built-in libraries. Otherwise, you would have to perform every task from scratch, which is very time-taking. The selected animated video maker should have a wide range of themes and topics to help the user out.
Built-in Character Creator
The character creator enables the user to create his own animated personas. You can create your own poses and interactions by using its broad range of appearances, attires, and qualities. Therefore, you must look if your chosen video maker online has a built-in character creator.
Way to Publish Finished Product
The ideal animated video maker free should have a high-definition video so people can view the video on their phones.  As the user puts in a lot of exertion and time to produce a video, the selected animated maker should also publish the product decently.
One of the essential qualities of any animated cartoon maker is its pricing plans. It should provide a free trial, so you can test all the features before buying the service. You will eventually judge if the supposed cartoon maker deserves the money or not.
User-friendly and Spontaneous Interface
You should select an animated animation online maker to be user-friendly and easy to understand. Otherwise, what is the point of spending your money on a tough application? The ideal video maker will provide suggestions, free trials, and demos to its user.
Closing Words
The article concludes with a helpful and efficient way to perform animation online. One can perform the related animation work with an easy approach with the Doratoon cartoon video maker. We have provided the finest features of the cartoon maker and pricing strategies of the Doratoon video animation tool. Make your animation tasks easy and fast by visiting Doratoon official website.