Raid Shadow Legends is a fantastical RPG that offers hundreds of champions amongst thirteen various factions. The game itself is set in the expansive world of Teleria, where you as the player are tasked with recruiting Legendary Warriors from the forces of Darkness and Light. You must then train them so that they fight together in unity. Moreover, you will need to upgrade their items, armor, and weapons and gain experience to become proficient members of a raiding party and absolutely decimate opponents ahead of them.
With hundreds of warriors to choose from, you can start a balanced team against Sorcerers, Skinwalkers, Undead, Elves, and Knights to get rid of your enemies. You can also engage in epic PvE combat with tons of bosses that drop unique loot and XP that can only be triggered under certain events, which allot you extremely powerful gear. The PvP Arena is where you can prove your skill and test your might against the best combatants of the game, helping you unlock epic gear along the way while engaging in intense battles.
Surprisingly, the developers have done a terrific job of balancing out action with strategy. As you are given different items along the match's course, you are tasked with upgrading and equipping only a few trying to understand which ones would suit you best. With the recent addition of Artifacts in Raid Shadow Legends, the amount of strategy needed to be on top is taken to the next level with devastating synergies, AoE attacks, special attacks, and healing powers aiding you in your pursuit of victory. While the game has features such as Auto Play, which help reduce the amount of time you spend grinding, the game still is quite hard to play without using an Android Emulator like LDPlayer.
Why Play Raid Shadow Legends on LDPlayer?
Most professional and high-ranked players in the game prefer playing on an Emulator due to their general stability, ease of use, functionality, and gameplay experience. Therefore, it shouldn't come as a surprise that LDPlayer ranks up as one of the best Android Emulators to play Raid Shadow Legends simply because of the inherent advantages it provides over someone playing on a mobile phone. Here are some features that can help you in your Raid Shadow Legends experience.
LDPlayer promises smooth gameplay with up to 120 FPS on any game. On a visually demanding game like Raid Shadow Legends, this promise comes in quite handy as even the beefiest of phones cannot smoothly render some of the larger areas this game offers. Thankfully, LDPlayer consumes minimal resources due to its optimization but still delivers outstanding smooth results in most cases.
Raid Shadow Legends involves a lot of repetition. Most of the time, mindlessly repeating a set of tasks over and over again provides you with the most gold and experience. However, it can get quite dull if elongated for a more extended period. Therefore, LDPlayer offers dedicated macros that let you record complex actions, which the Emulator then effortlessly performs for you at the click of a button.
Like any RPG game, procuring and possessing different sets of equipment and characters is of pivotal importance. Thankfully, LDPlayer helps you achieve just that with the ability to Multi-Instance many accounts at once. So, you can manage multiple accounts at the same time while being assured that minimal system resources are being consumed in the process.
How to Download Raid Shadow Legends on PC: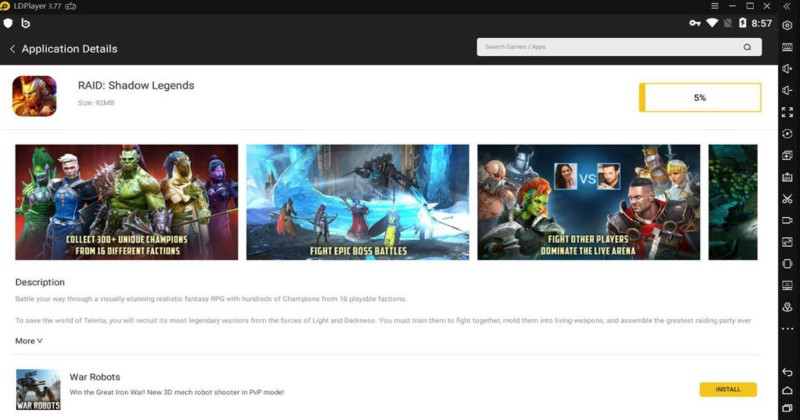 Downloading Raid Shadow Legends on PC is quite merely, straight-froward, and best of all, completely free. Here's how you can do so:
Download the latest version of LDPlayer
Look up Raid Shadow Legends on any of the three App Stores available on the Emulator.
Install the game and open it. You will not need to adjust any settings as all key binds will automatically be integrated as soon as you launch the game for the first time.
Since LDPlayer supports the game from the get-go, you should be able to get unique personalized features for the game specifically developed to provide you with the best gaming experience for Raid Shadow Legends.
Conclusion:
Raid Shadow Legends has only soared in popularity in recent months, especially with new playable characters and factions into the game. The game has also been given many visual updates, which have made it a bit more demanding as time goes on.
Therefore, playing on an emulator like LDPlayer makes the most sense as it takes the load off your mobile phone while also providing you with a more dedicated gaming experience. It also boasts features such as Macros and Multi Instancing that reduce the time needed to grind a particular challenge letting you explore the world and its mesmerizing surroundings in a much better manner.