When you search for a query on Google, the history related to it is automatically saved in your Google Account and you can view this recent search history using the features provided by Google. You can do this on any browser and it will help you to retrieve all your Searches history that you made on the Search Engine.
Google is the World's largest search engine with over 92% Mobile search share and 75% Desktop. The company offers different searches related to Information, Blog Search, Videos, Music, Images, and latest news. It is also known for its privacy protection policies and user data protection. The best thing about Google is, it offers you extensive web history records and full control over your data. You can view these search history records and Edit or delete them.
Using the View Search History feature on Google, you can retrieve your History related to Google Search, Google Images, and other Google Products. In this article, we are going to guide you through different steps that will help you to retrieve your recent Google History as well as your Complete Google search history.
How to View Recent Google Search History
When you make a search on Google, The search history data is automatically stored by Google and you can easily access it by going into your Google Account. We will show you how you can do it, You can use any browser for viewing your google search history. For this tutorial, we are going to use Google Chrome.
Here are the steps you need to follow in order to view your recent search history on Google.
Step #1: Log to your Google Account
Open any internet browser, we are using Google Chrome. Visit Google.com and click on the Sign In button in the upper right corner of your screen. After Clicking on the Sign In button, Enter your credentials to Sign In to your Google account.
Step #2: Go to the "My Account" option on Google
The next step is to Go to your Google Account. for this you can click on the "Profile Icon" and then select the Manage Your Google Account option.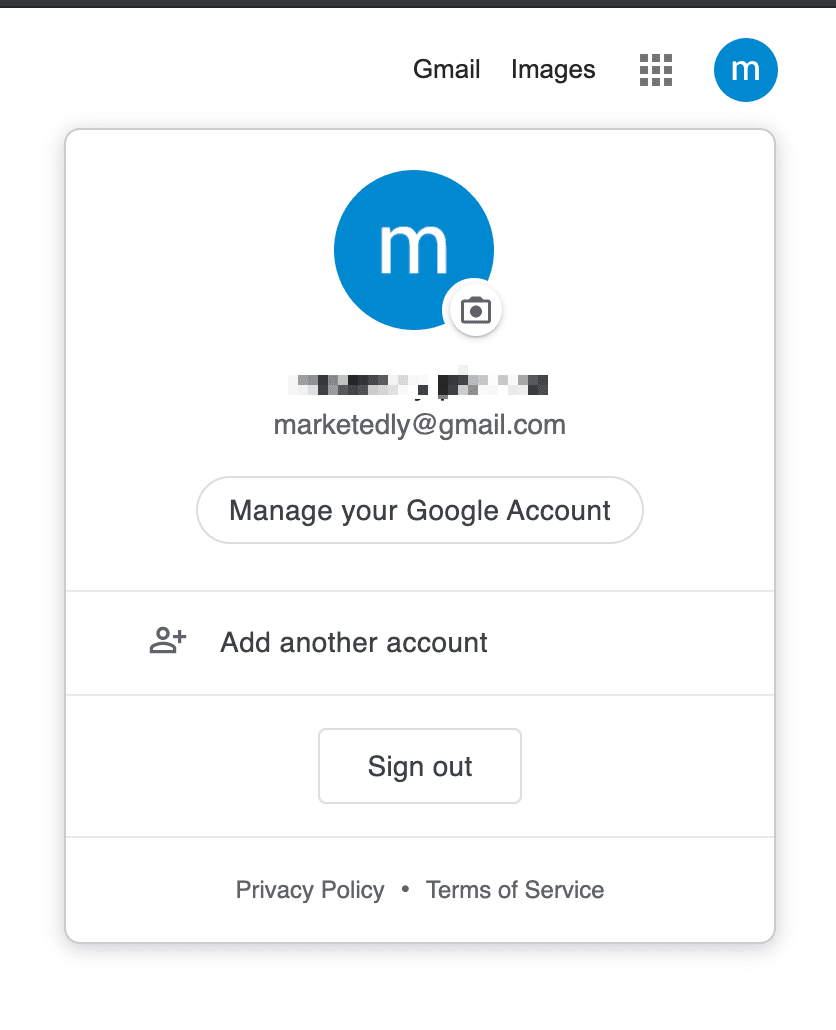 Step #3: Go to the "My Activity" Tab
Once you are on your Account Page, click on the Data & Personalization option from the left pane, scroll down to Activity & timeline and select the "My Activity" option.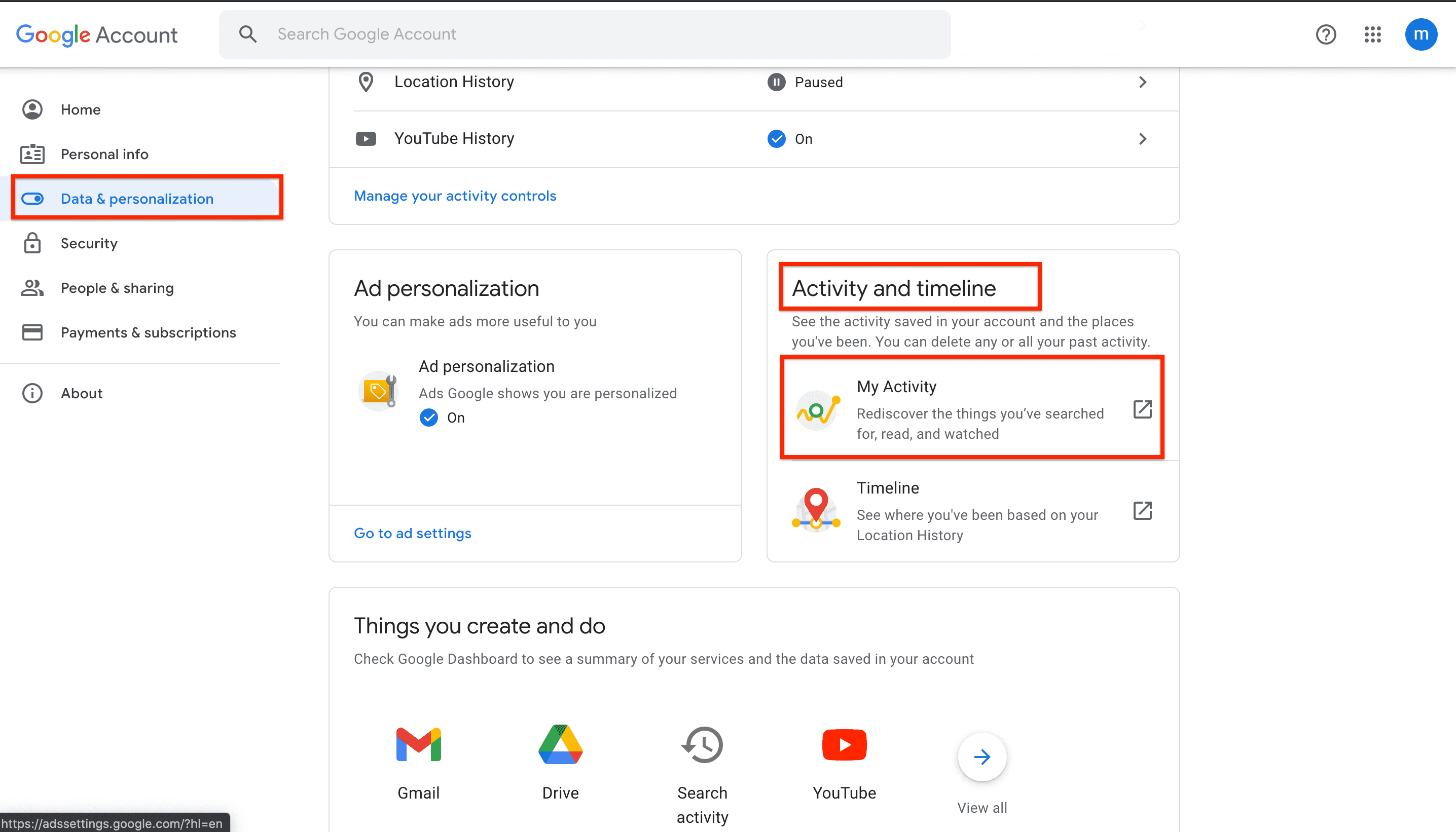 Step #4: Use the Search Feature
If you are looking for a specific search that you made recently, you can simply use the search bar given at the top of the filter option. the user can also perform different actions on the Activity, such as Deleting individual activity, Deleting whole search History, Get detailed search History, Control which search history should be tracked and which should be excluded from showing in the activity tab.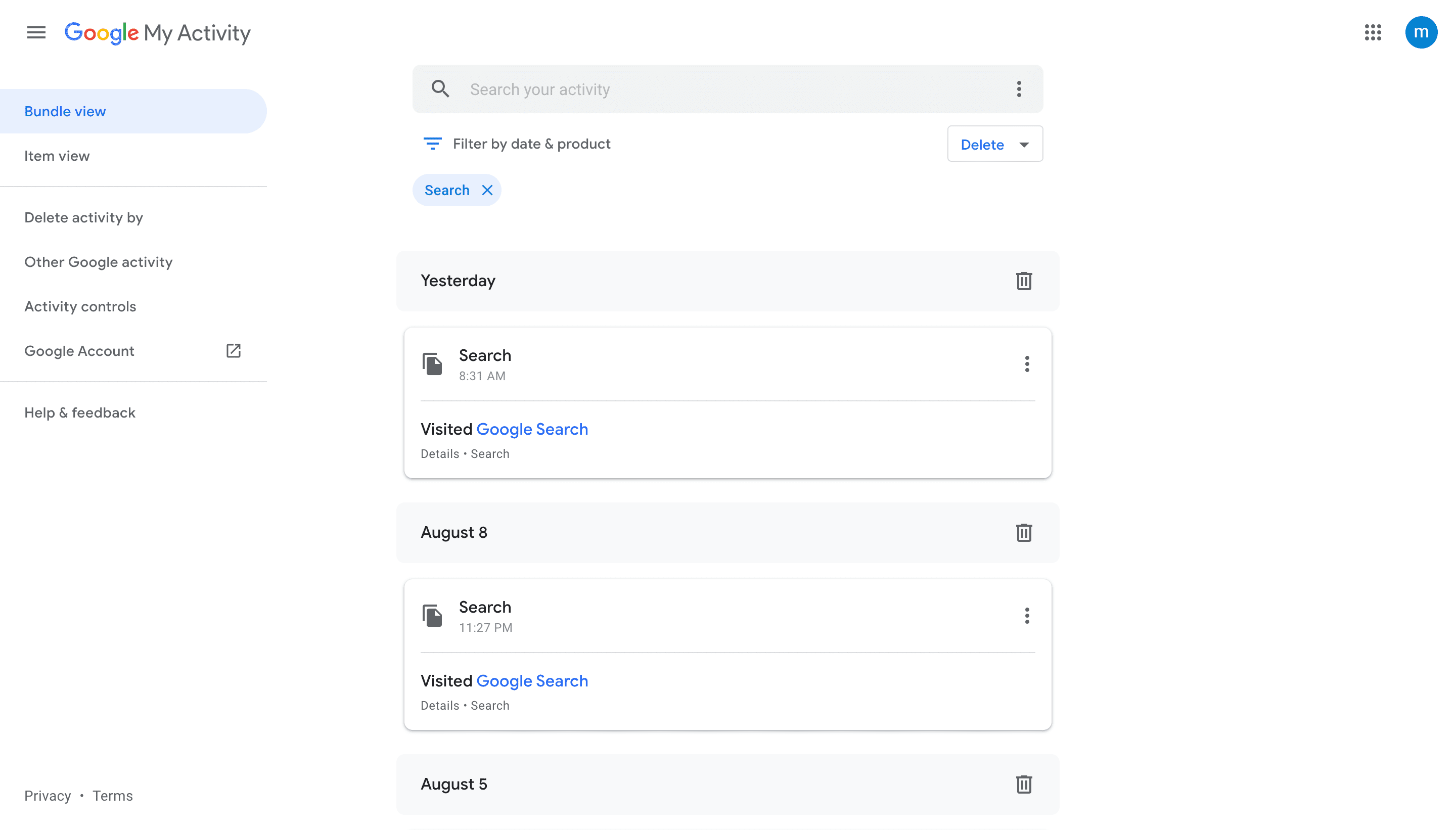 Final Words!
We hope, by using the given steps you will be able to retrieve your Google Recent Search History and other Histories related to Google Products.
If you want to have more control over how your Activities are saved and processed, click on the Activity Control option from the left pane.
Please let us know if you have any questions regarding How to View your Recent Google History.