Fix "Error code 910" in Google Play Store | Can't Install App on Android Device
You might encounter "Error code 910" while the user tries to install, uninstall or update the application or game from Google Play Store on your android smartphone. Other Error codes similar to this includes "App Not Installed", " Game Can't be installed on your android device.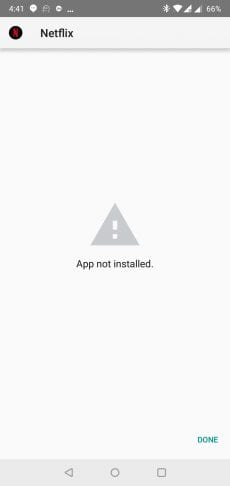 There might be multiple reasons that might cause this error and we are going to list a few of them and how you can properly troubleshoot the issue yourself and fix the Error Code 910 as quickly as possible.
Google Play Store is widely used and is also a Default App Browser for Android with millions of apps available to download and while installing some of the Apps many people face issues like "Can't install App >> Application" can't be installed. ty again and if the problem continues, get help troubleshooting. (Error code: 910). or Application is corrupt, Game can't be installed and so on. This issue is common on a lot of android devices and versions including Lollipop, MarshmallowNougat, and Oreo. Below are some of the reasons what might cause this error:
Reasons Causing Error Code 910 Issue on Android Smartphones
The previous App is not installed properly:
This is the common reason for this problem to occur. If you already had the application on your phone which you are currently trying to install then there might be high chances that the previous App is not uninstalled properly and you will need to clean and delete all the previously remaining files. This is the main reason for many devices for Error Code 910 to appear.
Google Account Glitch:
If you are using multiple Google accounts on your device and you keep switching between them then that might also create a problem while installing the application from a specific Google Account logged into your Play Store.
Data present on the SD card is not Available or corrupt:
This might be the case if you are using an external SD card for extra storage. The best practice for using an SD Card is to keep all the Applications and App data on device memory and move all Video, Audio, Images and other files to your SD Card. if the reason for this error is SD card then you can quickly fix this by moving your application files to your internal memory from your SD card.
Invalid App Data or inaccessible Cache Files:
Every application has some sort of cache file on your device. Cache files simply mean a Saved-Copy of the programs on your smartphone. Cache files are not updated frequently and thus they can create problems while dealing with old cached and new files.
In this article, we are fixing such common issues that might be preventing your smartphone from downloading the applications. These Troubleshooting methods are easy and you don't need to have the computer knowledge to perform them.
Steps to Fix "Google Play Error Code 910" on Android Device
Clear App Data and Cache.
Change Default Device administrator Settings.
Change Google Play Account.
Move Apps from SD Card to Internal Memory.
Downloading and Installing APK Files.
Installing the Downgraded App Version.
Clear App Data and Cache Files:
This method is the easiest one and has solved an "Error code 910" problem of many users in one go. Sometimes the corrupt cache files might prevent play store from installing any application or game on your mobile device.
To Clear App Data and Cache files on your device follow the given steps:
Open Settings on your Android Device.
Look For an option called as "Personal" or "Apps & Apps Manager".
Click on the Apps Tab >> Application List.
Now scroll down and look for "Google Play Store".
In storage tab Click on "Clear Data" and "Clear Cache" and Restart Your Device.

Once your device is rebooted again visit the Google Play Store and try downloading the app. If you still get the "Error Code 910" Message on your device then follow the next steps.
Change Default Device administrator Settings:
Go to Settings and under Device tab, you will find the "Users" option.
Under Users click on "Guest" or "Add User"
Now save the settings and Restart your Device.
Change Google Play Account:
Sometimes the user might be banned from installing the applications from Google Play Store because of some suspicious or invalid activity in such cases visit Google Play Store and click on 3 links beside the search box and select different Google Play Account to login. If there is no other account then try creating a new Google Account by going to the Gmail App and clicking on the "Add User" Option. Restart your device and see if the Error Code 910 Problem is resolved.
Move Apps from SD Card to Internal Memory:
If you are a user who requires a lot of memory on his/her device and uses the SD Card as a secondary storage option on your device then follows these simple tips to utilize your device memory in a proper way.
Store Your Applications, Games and Application files/ Cache files and folders on your internal(Device's memory).
Move your media files like Videos, Audio, PDF, Images to your SD card from your phone's memory.
Always keep your Internal Storage clean and keep Free Space on your internal Device.
If you want to troubleshoot using SD Card Method then Simply move your Application files from SD Card memory to your Phone memory's Root Directory if the Error 910 still appears then try removing the SD card from your device and reinstalling it again followed by a device reboot.
Downloading and Installing APK Files:
Sometimes some apps are restricted in some countries like you can't download Paypal Application in Countries like Bangladesh, Nepal or Stripe Application in India and Pakistan as these applications are not meant for your country. Error 910 might also occur due to some unexpected reasons.
If you want to install the APK file on your Android device then visit Third-Party APK hosting websites like Apkpure.com Visit their website and search for the desired application and click on download. An apk file will be downloaded on your device and you can install the file directly on your device. This method always works to quickly fix the Error Code 910 and install applications on your Android Device.
Installing the Downgraded App Version:
If you are trying to download an application that is recently updated on Google Play Store then there might be chances that the files are already broken and that is causing the Error 910. Try reading reviews for the application and check if other people are experiencing a similar issue.
For fixing the issue using this method you can follow the above-given method only by visiting Apkpure.com and searching for the previous version of the application on the website.


As you can see in the above image, for the "Youtube Application" Apkpure has already given 4 older versions and you can easily install them by clicking on "Green Download Arrow".
Conclusion:
With the given solutions above you can easily Troubleshoot the Error Code 910 issue on your device and download any application from the Google Play Store. If there is any other working method you know then please share it with us by commenting down below.