[intro]Deleting a Reddit account means taking a break from social media or you just don't want to use that account anymore or want to delete the previous Reddit account and start a new one. Whatever the reason is, Deleting a Reddit account is easy and quick and in this article, we are going to tell you the exact steps to Delete a Reddit account.
[/intro]
Reddit is a massive online community with more than 100 Million active monthly users and around 1 billion monthly page views. That said, Reddit has become popular in just a matter of times because of the great features and tools it provides to have a healthy and informative discussion on any topic and Reddit has always been considered as the best place to gather knowledge on any topic and discuss with likeminded people. Reddit has
Reddit posts and comments
, where you can start a topic by creating a post and people, will join the discussion by commenting on your post.
Reddit has become a controversial website in the last few years because of its Different subreddits that created these controversies but Reddit is also an amazing website to share ideas and have a very good discussion with people around the world.
Sometimes it may get hectic and suddenly your choice of using Reddit turns into hating Reddit. There are a lot of yours who stopped using Reddit in the past couple of years because of various reasons and today in this article we are going to tell you what is the process to delete your Reddit account.
Before we proceed further please note that if you delete a Reddit account then there is no other way to activate it again. So just make sure that you don't need that account or that Username anymore. Also if you delete your Reddit account then there are chances that you will lose all the Karma associated with that account.
[featured]
How to Delete a Reddit account
Log in to your Reddit Account.
Click on the Users icon appears on the Top-right side.
Click on "User Settings" Option from the Drop-down menu
Scroll down to the end and click on "Deactivate Account" Option.
Enter your Login details and Select the reason for "Deactivating the Reddit account"
Hit the "deactivate" button to deactivate your account.
[/featured]
If you are wondering what a step-by-step guide for the given steps will look like then don't worry, We are also giving you detailed information about each step and we will help you to successfully deactivate your Reddit account.
Step 1: Log in to your Reddit account
Please visit the Reddit website using the link and click on the Login button, Enter your credentials and Log in to your Reddit account.

Step 2: Click on the user icon
The next step is to click on the User icon given on the top-right side and select "User Settings" from the given drop-down list.

Step 3: Search for the "Deactivate account" option.
Once on the "User Settings" page try to look for the "Deactivate Account" Option by scrolling down to the bottom.
Step 4: Enter Log in Details
A new window will pop up asking for Feedback and your Login Details for security purposes and to ensure that the real user is trying to deactivate his/her account by re-entering the account credentials, click on the box which says "I understand that deactivated accounts are not recoverable" and click on "Deactivate button"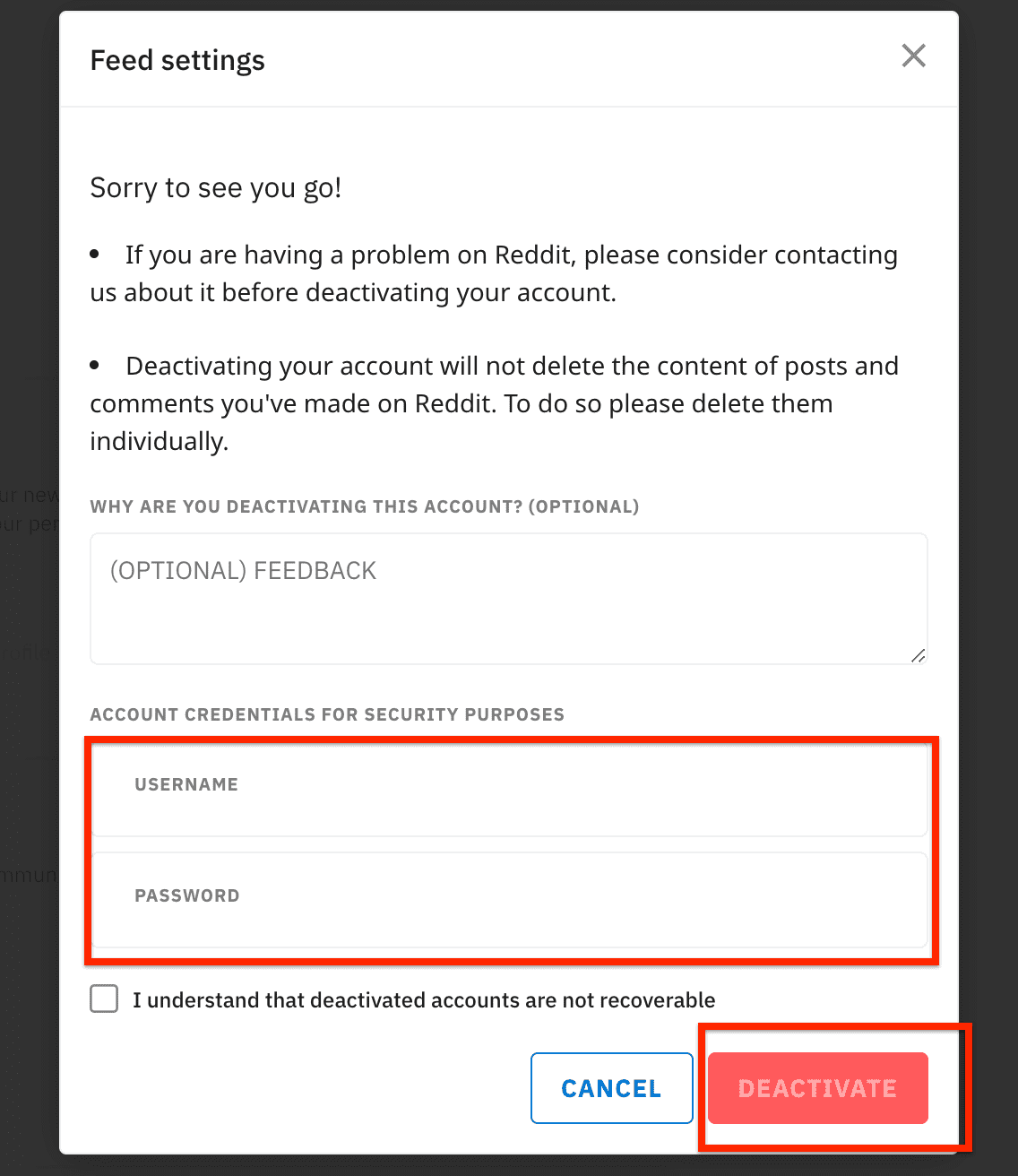 Once done you will be logged out of your account and you will be redirected to the Reddit's Homepage.
Final Words:
As we know social media is booming and the world is getting closer day by day but this is also making people sad and unhappy. Deleting a social media account and taking a short or long break is always a good idea to get some positivity in your life. The above guide to Delete a Reddit account is all you need to quit Reddit. One thing to note here is that once deleted you can't use that account again, If you want to create an account then you have to use a fresh Email id with a new username.
If you have any questions or queries about deleting a Reddit account then please let us know by commenting down below.
Also Read:
Set Custom Status Discord | Change Status on Discord
How to get a Business License to sell online on Ecommerce Platforms
How To Delete Twitch Account
How to Make a Table of Contents in Google Docs