Avast UI Failed to load : avast AV service is not responding [FIXED]
"UI failed to load" or "AV Service is not responding" is often every avast user sees when they try to update their Avast antivirus. The problem is common for many people and today we are going to try and find some easy fixes to "Avast UI Failed to Load" error and how to troubleshoot it and find the issues.
Avast is a Free antivirus designed for all cross-platform compatibility including that of computers, Laptops, and Phones. Avast is in the market for more than a decade and is a well popular name in the industry. Sometimes after updating their Avast Antivirus people encounter an unknown error saying "UI Failed to load", This is the case with many yours that they see a message and only 'Exit' and 'Restart Service' buttons.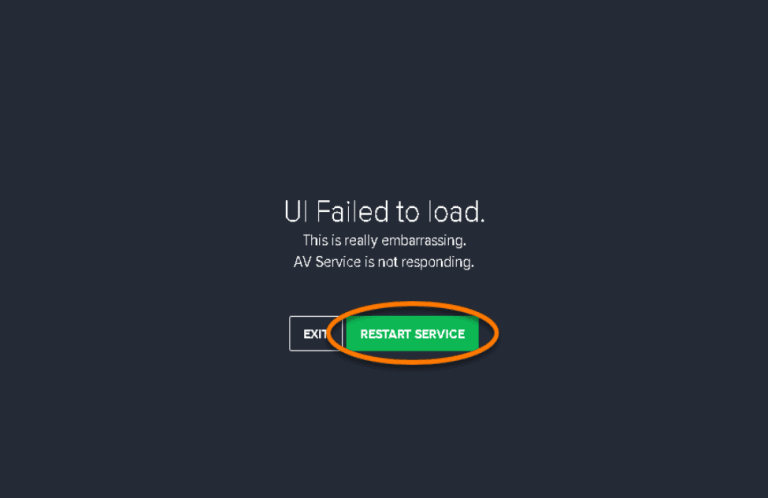 There might be many reasons that are causing this error to appear and below we are listing a few of them:
Reasons for "Avast UI Failed to Load" Message appearing on Screen:
Wrong Windows Services Configuration.
Glitch While Downloading the update from Avast Servers.
#1 Wrong Windows Services Configuration:
Avast support team has confirmed that the common reason for most of the "UI Failed to Load" error is "Wrong Windows Services Configuration" for your Avast Antivirus Copy. This error is caused due to invalid or blank setup files while downloading setup from an online website.
#2 Corrupt Files While Downloading the update from Avast Servers:
It might be also possible that while downloading the update, because of the Network error on your side or due to some Server Errors this problem might occur and there is no easy fix for this but to uninstall the Avast anti-virus and install a fresh copy from their official website.
There might be multiple small or high scale reasons for this problem but the above given are common in most of the cases and in this article we are going to address these two problems and fix the Avast UI Failed to load or AV service is not responding error.
Fix Avast's 'UI failed to load.AV Service is not responding' Error
Load Avast on PC Start :
Go to control panel and Services Console or Open Run Dialog by pressing "Windows+R" without quotes and Typing "Services.msc" in the box.
In the Services menu, Select "Remote Desktop Services" and double click on it.
Under General, Settings find Startup Type and set it to "Automatic"
Click on Apply and Restart your computer.
After Restarting your computer,  launch the Avast Antivirus and you will see that the Problem of "AV service is not responding is solved and your Avast is working normally.
Repair / Reinstall Avast Antivirus:
if the above method does not work for you then the possible reason might be corrupt files added while downloading the update and the only possible and quick option is to try and repair it or uninstall the Avast antivirus and download it again.
For Repairing/uninstalling the Avast Antivirus follow the below steps:
Type in the control panel in the windows search box and click on the first icon.
Go to Programs > Programs and Features and Search for the Avast Antivirus.
Select Avast and click 'Uninstall/Change' button
Click change and choose the Repair option
Avast will try to Troubleshoot the problem itself and repair the files by downloading them again.
Once done please Restart your computer again and check if the Avast UI Loads normally.
If both the above methods are not working for you then the best way is to uninstall the Avast Antivirus. For uninstalling follow the Steps given in Repair/Reinstall Avast Antivirus from 1-3 and rather than selecting Repair option, Select 'uninstall' and continue till the software is completely uninstalled from your machine and restart it.
Once done visit their official website by clicking the link and select "Free Download" Option and install the software on your pc.
Conclusion:
Avast is currently working to fix this error and the company has already posted a lot of different methods to solve the issue on its forum. Here we have addressed the 2 major issues and their fixes for Avast UI Failed to load error. If you are reinstalling the Avast Antivirus then please make sure that you download the latest copy from their website.
If you still face problem then please comment down below and we will try to help you.